Making Artist Books is a regular part of my practice. I love artist books for their tactility and intimacy. I have been folding little booklets and drawing stories in them for as long as I can remember, and this has fed into my ongoing experimentation with different book formats. My interest is in content and appearance equally: the handling and reading of the pages guides and also reflects the reader's experience.


Knut/Bruno -
In Memory of Two Bears
Screenprinted concertina book, 2016
7 pages, 11 x 8 cm
(11 x 56 cm when unfolded)
Available in my online shop.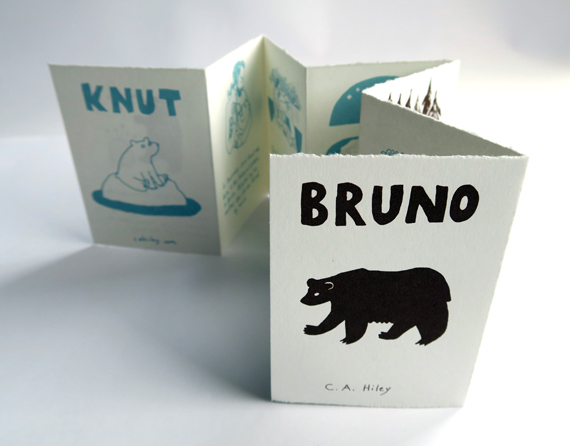 Remember Knut? Some of you may even know Bruno, or Petzi, or JJ1 as his official breeding name was. In 2006, two bear stories occurred in Germany. Earlier in the year, a brown bear from a rewilding programme in the Alps wandered into Bavaria from Austria, causing much alarm. A few months later, a polar bear cub was born in the Zoo in Berlin. He was reared by hand, and became a worldwide celebrity. I was interested in the diametrically opposed media reactions to these two bears: the fear and exaggeration over the first wild bear in the country for 170 years, and the adulation of the cute white bear cub, contained in the zoo and reared by humans. Neither bear had a happy end (though Bruno may have had a happy life), and this booklet is an illustration of our strangely remote attitude to nature, and our anthropomorphising of the Other.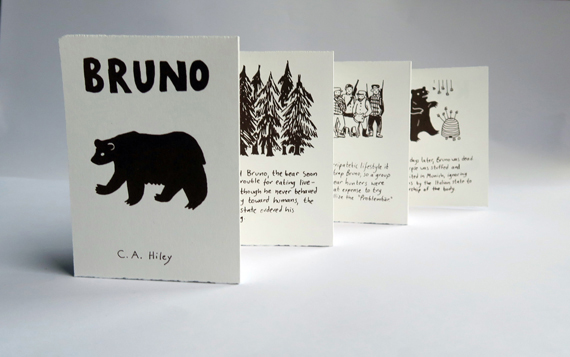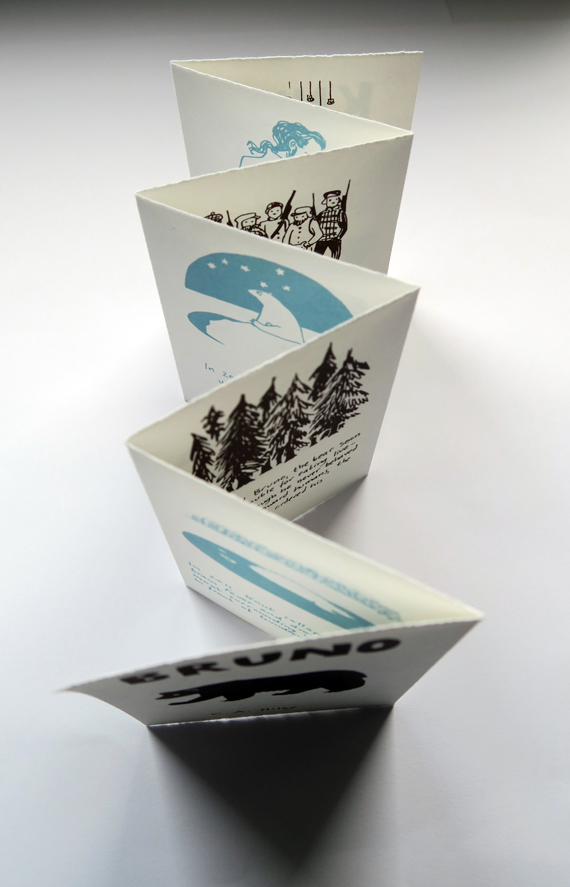 Two Tales of Magic Cats
screenprinted back-to-back booklet,
2017

10.5 x 7.5 cm

available in my online shop
This back-to-back book contains two short folktales about magic cats.

One of the retold folktales is the well-known "King of Cats" tale, the other one "The Magic Sausage" I found in my book of folk- and fairytales from the region of Germany where I grew up, collected by a contemporary of the Grimm brothers, Franz Xaver von Schönwerth. Stories in his collection also contains elements of the "King of Cats" story, though not the version I was familiar with.
In Winter My Beloved

screenprint
2015
page size 15 x 15 cm


In Winter my Beloved is a folded book with images inspired by the poem Nebelland by Austrian poet Ingeborg Bachmann.

The book functions more as a small standing sculpture, rather than a flat-folding book with pages to be turned.
Hrafn Floki
collaboration with Nalini Paul
Screenprint and laser-cut,
2013
13 x 13 cm when folded
Created as part of
The Written Image
project, a collaboration between Edinburgh Printmakers and the Scottish Poetry Library. Editions held in Scottish National Gallery of Modern Art
Special Books Collection
, and Edinburgh College of Art Library.
Poem by
Nalini Paul
. All text © Nalini Paul.