Screenprinted concertina book, 2016. 7 pages, 11 x 8 cm. (11 x 76 cm when unfolded.)
Available in my online shop.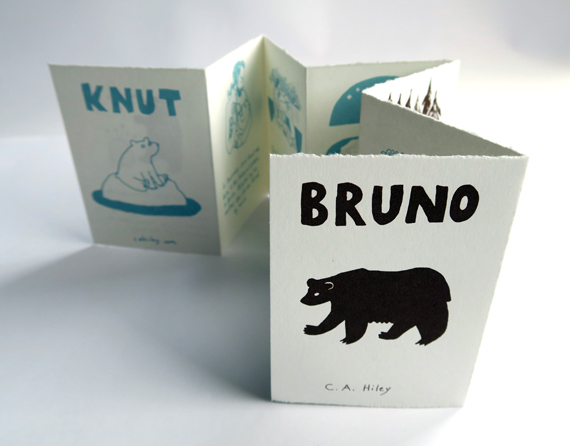 Remember Knut? Some of you may even know Bruno, or Petzi, or JJ1 as his official breeding name was. In 2006, two bear stories occurred in Germany. Earlier in the year, a brown bear from a rewilding programme in the Alps wandered into Bavaria from Austria, causing much alarm. A few months later, a polar bear cub was born in the Zoo in Berlin. He was reared by hand, and became a worldwide celebrity. I was interested in the diametrically opposed media reactions to these two bears: the fear and exaggeration over the first wild bear in the country for 170 years, and the adulation of the cute white bear cub, contained in the zoo and reared by humans. Neither bear had a happy end (though Bruno may have had a happy life), and this booklet is an illustration of our strangely remote attitude to nature, and our anthropomorphising of the Other.